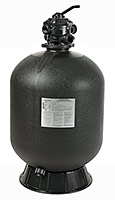 Pentair CRISTAL-FLO™ II (Top-Mount Filters)
HIGH RATE SAND FILTERS
For residential inground or aboveground swimming pools requiring turnover through 59,000 gallons, at flow rates up to 20 GPM for 8 to 10 hours. Permanent media high rate sand filters in 15″, 17″, 20″, 24″ and 30″ diameter models accommodate large and small pools, offering the best combination of economy, performance, durability and ease of maintenance. Corrosion resistant, one-piece, extra-thick molded polyethylene tank assures long service life. Top-mounted, corrosion-resistant multiport selector valve included. Also includes a convenient tank winterizing drain and continuous air relief system.
FEATURES
Quality Construction – Durable one-piece extra-thick molded polyethylene tank
Internal aire relief hole allows air to automatically escape, preventing high pressure buildup
6-Position Valve – Allows you to perform all necessary water movement functions. A transparent sight-glass adapter is included
Large Drain Plug – Large drain plug is easy to access for removing and installing by hand or with tools if required
Sleek Looks – Contemporary style with a textured black finish that provides superior performance in all weather conditions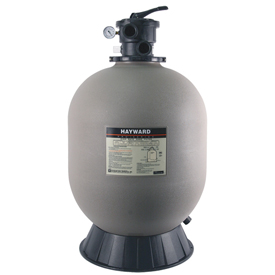 Hayward Pro-Series™ Top Mount
Hayward Pro Series high-rate sand filters offer the very latest in pool filter technology with smooth, efficient flow and totally balanced backwashing.
Pro Series sand filters feature unitized construction of corrosion-proof, polymeric material and self-cleaning 360° slotted laterals. A versatile sevenposition control valve offers both easy operation and maximum efficiency.
For crystal clear, sparkling water with minimum care, Pro Series filters set a new standard for performance, value and dependability.