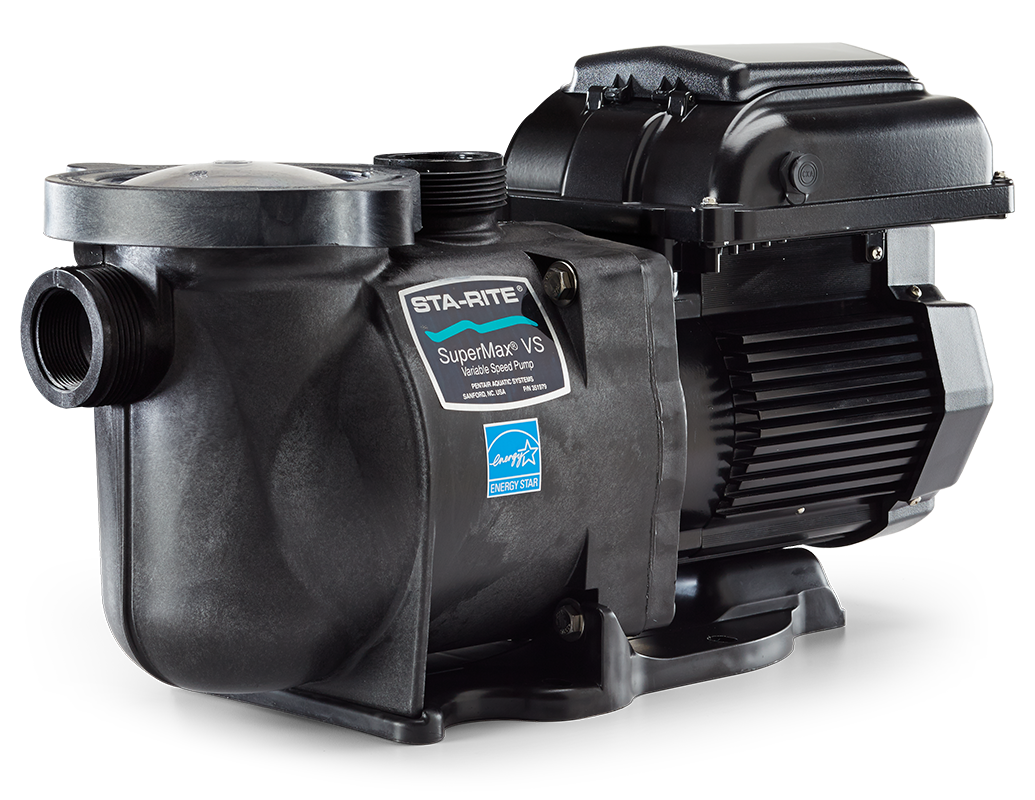 SUPERMAX® VS - Variable Speed Pump
Affordable Variable Speed Technology Comes to Standard Pools for Energy Cost Savings of Up to 80%*
SuperMax VS pumps slash energy costs by up to 80%*, compared to conventional pool pumps. They come to you from the company that launched variable speed technology years ahead of every other pool pump manufacturer. With premium features like a 24-hour real time clock and an intuitive interface that displays watts and RPMs, they're easy to program and operate. No other company can match our proven, in-field performance and reliability, so you can count on years of long, dependable service. No wonder we outsell all other variable speed pumps.
Only variable speed pump on the market today with 115/208-230V and 50/60 Hz single phase capability. Operating nominal voltage range is 110V thru 230V
Ideal for standard pools requiring up to 1.5 HP pump
Easy-to-read display and real-time, 24-hour clock – no need to install a separate external unit
Three operating speed settings plus override capability
Direct and superior drop-in replacement for the Hayward® SuperPump®
*Savings based on variable speed pump compared to a single-speed pump running 12 hours per day at an average of $0.16 per kWh in a 20,000 gallon pool. Actual savings may vary based on local utility. rates, pool size, pump run time, pump horsepower, pump rpm, plumbing size and length, pump model, service factor and other hydraulic factors.
Hayward® and Super Pump® are registered trademarks of Hayward Industries, Inc.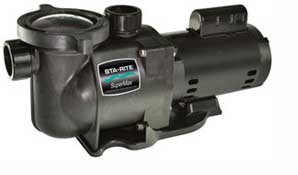 Pentair SUPERMAX®
HIGH PERFORMANCE PUMPS
The SuperMax® pump from Sta-Rite features a commercial grade, 56 square flange motor for top performance in residential swimming pools. SuperMax is a superior drop-in replacement for Super Pump. The advantage for consumers is its quiet operation and economical performance. The benefit to pool professionals is its ease of installation (union fittings are included and the pump easily drops in place).
FEATURES
2-speed SuperMax pump models are now ENERGY STAR® Certified: meets strict energy efficiency criteria set by the U.S. Environmental Protection Agency and the U.S. Department of Energy.
SuperMax by Sta-Rite® is a direct replacement for the Hayward®* Super Pump®*
Single and two-speed models ranging from ½ to 2 ½Hp
Cam and Ramp lid locks and unlocks with a simple quarter turn
Exterior thermoplastic resin withstands temperature extremes and delivers long life
* Hayward® and Super Pump® are registered trademarks of Hayward Industries, Inc.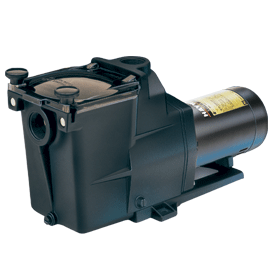 Hayward Super Pump®
Hayward's Super Pump series of technologically advanced large-capacity pumps delivers cost-effective, sturdy construction-setting an industry standard for value and excellence.
Built for spas and in-ground pools of all sizes and types, each unit contains a super-sized debris basket, large see-through strainer, and exclusive easy-to-service design for added convenience.
The heavy-duty high-performance motor includes airflow ventilation for cooler, quieter operation.
See-through strainer cover allows you to see when the basket requires cleaning.
Exclusive swing-away handle makes it easy to remove the strainer cover—no tools, no clamps, and no loose parts.
110-cubic-inch basket