Pentair Sta-Rite PLM300
This Sta-Rite modular media filtration is the perfect match for both the inground and aboveground pool. Advances in media technology and balanced flow design provide dirt-loading capabilities up to 15 times greater than sand filters of equivalent size. Virtually maintenance-free operation for todays pool owner. The small diameter footprint makes the System 2 filter a perfect fit for new and retrofit installations. Modular Filter Tanks allows for quick change of filter medias without changing the tank. Contemporary style and matte black finish looks attractive in any pool setting. Filter includes 2-inch NPT drain ports, which are provided with reducer bushing and 1-1/2-inch drain plug. Effective filter area 300 square foot, 113-150square foot flow rated GPM. Measures 20-3/4-inch length by 39-inch height by 20-1/2-inch width.
Aboveground pools, inground pools and hot tubs Modular DE Filter
Durable two-piece tank housing constructed of rugged ABS thermoplastic to ensure a long-lasting tank life
posi-ring closure provides safe, fast access to tank internal
Complete media coverage combined with shallow pleats means greater dirt holding capabilities, resulting in longer filter cycles and less cleaning
Measures 20-3/4-inch length by 39-inch height by 20-1/2-inch width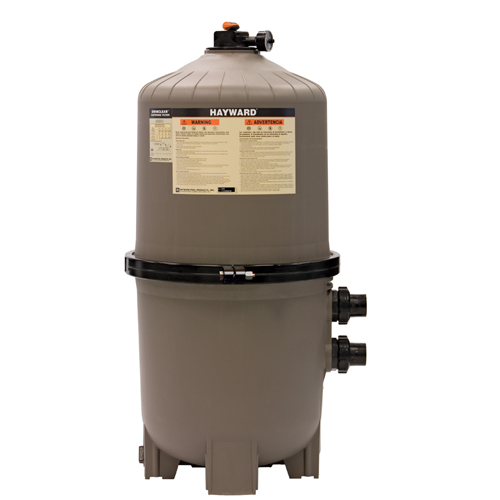 Hayward SwimClear
For new pool and aftermarket installations. SwimClear filters provide the most energy efficient flow with no backwashing to save up to 2,500 gallons of water per year.
Efficient flow lowers cost of operation
Cleanable cartridge elements – no backwashing required
Superior water clarity delivers crystal Clear Water