JF Piscines offers pool automation products that could save you hundreds of dollars each year while simplifying your life.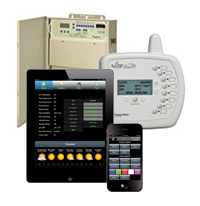 Pentair EASYTOUCH®
POOL/SPA CONTROL SYSTEMS
The EasyTouch® Control System family offers a new level of control for homeowner's looking for an affordable, easy to use pool/spa control system. EasyTouch allows full control of all pool/spa features including advanced features such as colored lighting and IntelliChlor® Salt Chlorine Generator support. Every EasyTouch system includes an easy to use control panel that is built into the outdoor enclosure. This control panel allows for full system setup, programmability, and everyday operation. In addition, there are several other available remote interface choices. The EasyTouch systems come in a variety of configurations: Pool only or Spa only, Pool/Spa with shared equipment, and also integrated with Pentair IntelliChlor Salt Chlorine Generator.
FEATURES
UltraTemp® Heat Pump integration
Support for 2 VS or 2 VF Pumps
Supports 8 Feature circuits
MagicStream® Laminar support
IntelliChem® controller support
Now works with ScreenLogic2® Interface software to allow control from an Apple® iPad®, iPhone®, iPod touch® mobile digital device or Android™ device, PC or Mac® computer
IntelliBrite® 5g Pool and Spa Light support
All functions controlled with easy, one-button access from the self-contained load center or optional controllers. No need to memorize operating sequences, open and close valves, or reset time clocks and thermostats.
Built-in diagnostics include automatic verification of the display, microprocessor, switches, indicators, relay outputs, valve outputs, sensor inputs, and communication ports as well as a diagnostic screen that reports failures for troubleshooting and repair purposes.
Include 150 amp breaker base with space for 10 1-in breakers
UL and cUL approved
Dimensions: 26 in. H x 17 in. W x 5-1/4 in. D
Apple®, Mac®, iPad®, iPhone® and iPod touch® are registered trademarks and App StoreSM is a service mark of Apple Inc. in the United States and/or other countries. Android™ is a trademark of Google, Inc.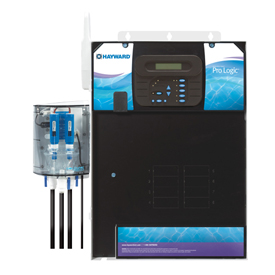 Hayward ProLogic
Create your own automation and chlorination system with ProLogic. Whether you have a basic pool or an extensive backyard paradise, ProLogic always offers the right level of control for your environment – because you start with the ultimate control then Pick N' Mix™ the options that are right for you. And it can easily be modified again and again, as your environment changes. There are six ProLogic models to choose from. See the Pick N' Mix accessories to create a custom controller that's right for you.
Automate your backyard and save you up to 70% on your pool's energy costs. Automating your variable-speed pump can save you up to $1,200 a year – maximizing water flow while minimizing energy consumption, so both you and your energy bill can relax.