Discover our prefabricated waterfalls!
Finally a ready to use product that installs in minutes. Our waterfalls are delivered in boxes, already pre-assembled. This premium product is perfectly suited to the most ambitious projects!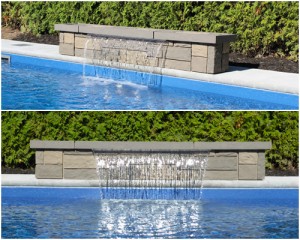 Features
All our waterfalls are factory-made and ready for use.
5 in. diameter PVC water connections.
Water blades with the built-in LED light (choice of white or blue), operating on 115V electric cable (with transformer included!)
Easy to install, lightweight and durable.
Our waterfalls are available in three sizes:
48 in. with a 24 in. LED
72 in. with a 36 in. LED
96 in. with a 48 in. LED